Here's what a Carnevale celebration is like in Italy and Sicily
In the first week of February last year, I took a trip of many firsts.
It was my first time ever flying alone, as I was traveling from Siena to Sicily on a weekend getaway. It was my first time returning to Sicily since I was 14 years old. It was my first solo- travel adventure while studying abroad. And lastly, it was my first time ever celebrating (and learning about) Carnevale.
Carnevale is the Westernized Christian celebration period that occurs in February into early March, highlighting the days before the 40 days of lent begin. Typically, Carnevale celebrations occur in Italy on "Martedì Grasso," or as Americans might recognize, "Mardi Gras" a.k.a. Fat Tuesday.
The world-famous, Italian Carnevale festival occurs annually in Venice, where people dress up in Victorian-esque garb and rather terrifying yet elaborate painted masks. The spectacle is both opulent and peculiar, mirroring that of a Tim Burton film rather than an Italian tradition.
Photos taken from the @venice_carnival_official Instagram account
It was safe to say I was thrilled at the opportunity to celebrate this holiday, what with the uniqueness of it all. Until, of course, my host family informed me at our weekly Thursday night dinner that Carnevale wasn't necessarily celebrated all throughout Italy, especially not as it was in Venice. Apparently, Carnevale festivals happen in random paesi in Tuscany, but in Siena it was mostly a day that mimicked a version of our Halloween, yet intended only for the amusement of children.
Boy, did I feel snubbed!
That is, until I called my cousin, Ninni, who I would be visiting in Sicily during the first week of February. When I asked whether they celebrated Carnevale in Sicily or not, a surge of excitement overtook his response. "Honey, you will love it! We dress up like Halloween, we go dancing, and there is a parade with the Carri!"
Cars? Strange, I wondered, why is he excited about cars? But whatever! Beggars can't be choosers and I was too excited to ponder the matter further.
Since I would officially be celebrating Carnevale in Sicily, I went to the closest Tiger store in Siena and bought a cheap but fabulous pair of white, feathered angel wings. I didn't have a mask, but I figured I wouldn't need one. (Wrong.)
Fast forward to the Carnevale celebrations that erupted in Floridia, the town where my family resides, which lies on the East coast of Sicily right outside of Siracusa. My cousins and their friends wore piece-meal costume accessories, like my angel wings, and told me stories of how intense costumes could get, and have gotten in years passed. It truly was like an adult Halloween in Sicily, and as we set off for the streets toward the town's main piazza, out poured the rest of the neighbors into the streets. Children, parents, grandparents-- people of all ages out in the dimly lit streets walking toward the center of town where vendors were selling food, candy, masks, and all sorts of light-up party accessories. All of the gelaterie and bars (coffee shops) were open with people sitting and chatting on their outdoor patios. The town was full of life, and at the heart was a large stage set up with a DJ where the younger folks, like myself, were congregated in a mass, dancing and laughing and having the night of their lives.
My aunt ran into my cousins and I and hurried us over to the side of the main street in anticipation of the parade. I wondered again about the cars, would they drive down in some sort of procession?
And there they came: massive, colorful, whimsical structures mimicking the faces of animals, clowns, and people. These weren't cars, they were floats! (And that, miei amici, is when I learned the Italian word for floats!)
I really cannot explain what they look like, as they can be described as both awe-inspiring and horrifying. So, here's what I saw:
I apologize for the blurry photos, I was too excited!
The whole spectacle was amazing. Following the cars were groups of school children wearing costumes and performing choreographed dances based on their age. There were people dressed up in Victorian-esque garments marching as well-- who must've been important somehow! And as the explosion of colors, joy, and amusement swept through the town, we eventually made our way back home. My cousin Ninni and I ended the night in what would become our ritual, munching on treats in the kitchen, reliving the evening through recaps and stories.
I couldn't believe this happened every year. Everyone of all ages gathering together, partying, dancing, laughing, and eating. The costumes, the colors. I was really blown away. And that was only part one.
We did the same thing the proceeding night, however we drove about an hour up the nearby mountain to celebrate in a town called Palazzolo Acreide, which is well known in the area for throwing a wild Carnevale festival that drew large crowds. As we ascended the mountain, the air became brisk, frigid even. We were in Sicily, which borders the equator, mind you-- and yet the temperature still dipped to 35 degrees fahrenheit. As this was a normal winter temperature at home in good ole Massachusetts, it was quite odd to experience in Sicily, a land I knew to be tropical.
And because of my naivete, I was totally unprepared for such chilling temps that I had to borrow winter gear from my sweet cousin, Daniela.
Anywho, in Palazzolo Acreide, the party was even more wild than the night before. People were packed in the main piazza, and all along the streets the floats began parting their way through the crowds. Above the ancient, steep streets hung fantastical string lights that lit up mask shapes in the sky. The town itself had that quintessential, weathered charm that most Italian towns boasted. It was a scene from a movie.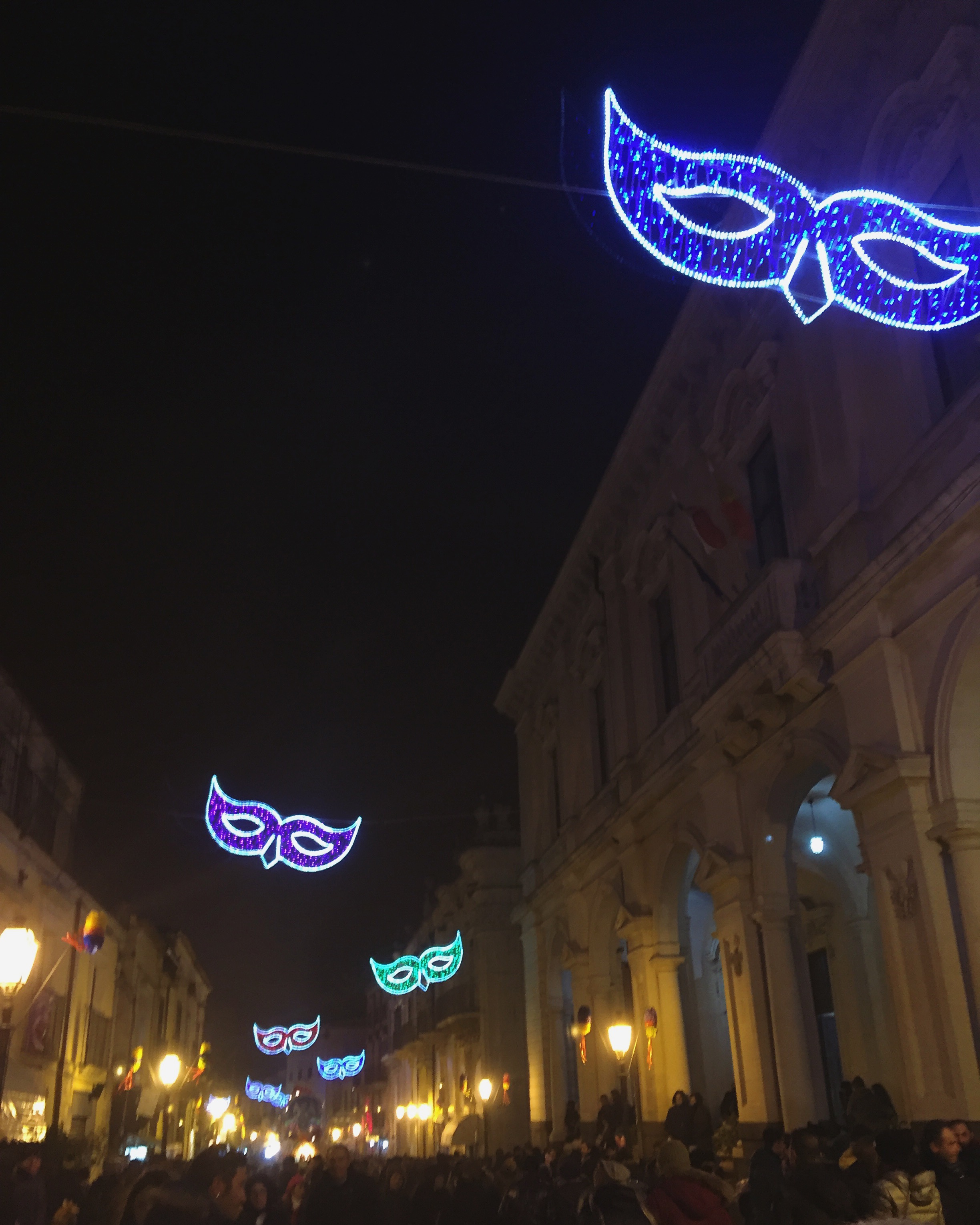 Our group took to the streets after watching the even-grander-than-the-night-before floats jaunt through the streets. We were in search of street food, and drinks, the reliable ingredients for any successful night out. We passed a street vendor selling masks, and I just had to purchase one. Ninni helped me pick out my new badge of honor, my ribbon for participation, my first Carnevale mask. It was a glittery silver mask with purple and blue accents, topped with a sprig of feathers. It was so special.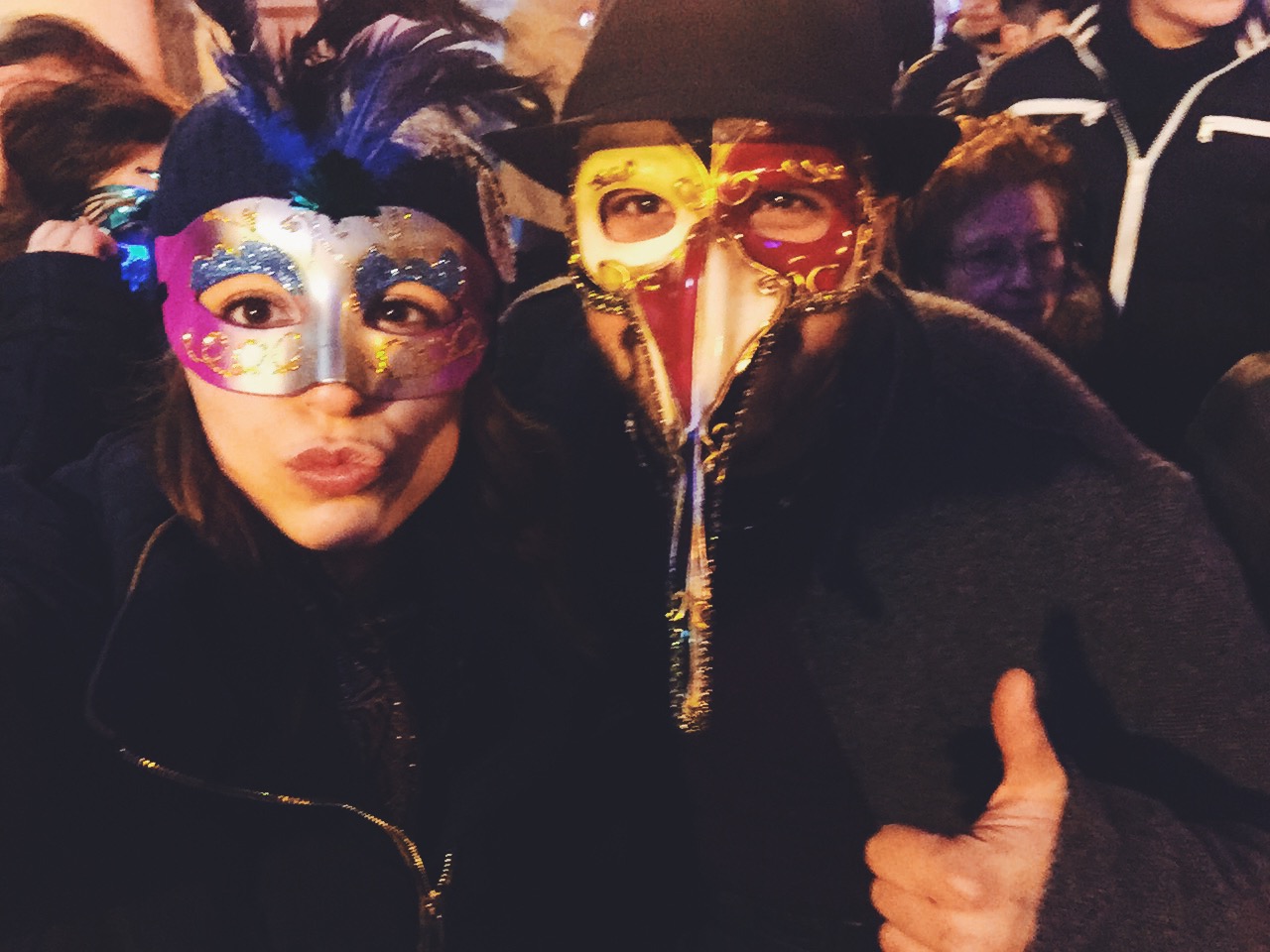 A dozen selfies and two street-sausage-panini later, we wrapped up the night with a bit more dancing. By the time we descended from Palazzolo Acreide's city center down to the car, I was exhausted. The spirited animation of it all inscribed in my mind for what would be the rest of my life.
And again, this was but a first for me-- but they got to do this every damn year!